Teletherapy Service for Men
Feeling Isolated and Alone? We can help
Virtual therapy sessions through Denver Men's Therapy get's you the help you are seeking from the comfort of your own home.
If this coronavirus pandemic has taught us anything, it's that we are in unprecedented times. As we are encouraged, and in some cases forced to shelter at home to protect us and those around us from spreading this highly-contagious virus, we are all feeling isolated and alone.
Confined to our homes, either by ourselves or with family members or roommates, for days on end with no end in sight, can also make us feel anxious and stressed, angry and deeply depressed. For some, feeling this way is nothing new. For others, suffering from these feelings is nothing new, as they've struggled with it for years.
The truth is, however, isolated you may be feeling, you are not alone.
Denver Men's Therapy Offers Teletherapy Services to Anyone in Colorado
The truth is, there is a way to deal with these complicated feelings in a healthy way. Though you may not be able to see a therapist in an office setting in person, you can take advantage of our new telehealth services from your own home.
Though Teletherapy can take many forms, we offer virtual therapy for men through video. It's very similar to a regular therapy session but instead of meeting in our Denver office, our therapists conduct sessions over video using laptops and mobile devices. This means you can take part in your healing from anywhere, according to your own schedule. It's convenient and simple to use.
Teletherapy is Safe and Secure
This is a completely safe and secure method utilizing a HIPAA-compliant video platform that provides complete confidentiality. For increased security, clients are encouraged to take part in their teletherapy seasons away from other members of their households. A closed-door home office, basement or attic, or even the backyard are all suggested places to meet with your therapist.
Teletherapy is Just as Effective as In-Person Therapy
Studies have shown that video therapy is as effective as face-to-face therapy because it's so similar in practice. Nothing changes with the way your therapy is conducted except for the location.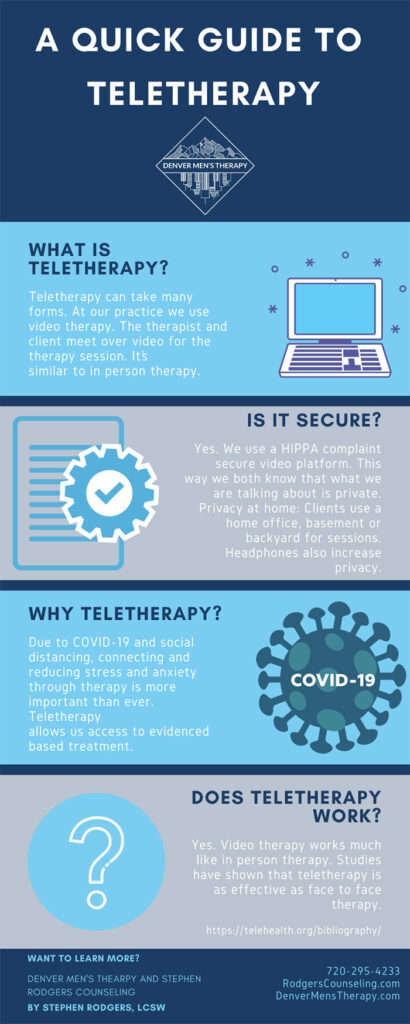 How Does Teletherapy Work?
Teletherapy is incredibly easy to use using any device – laptops, desktop computers, smartphones and tablets. All you need to do is make an appointment as you normally would, then you'll receive a link to download a free, HIPAA-compliant video platform to download onto your device. You'll then receive a link to join your video session. Just click the link to join your session at your appointed day and time. It's that simple.
Ready to take the first step into teletherapy? Make an appointment now!